Welcome to Cypress Rain Gutters
Looking for gutter installation or repair? Look no further, Cypress Rain Gutters is your trusted source, with over five years on our side we know how to do the job right the first time. We provide quality gutter installation, repair and replacement to homeowners or business owners in need of professional gutter contractors throughout in Katy, Cypress, Hockley, Waller, Tomball, Jersey Village, Spring, Copperfield and surrounding areas in Houston, Texas we have you covered. Get affordable and efficient gutter installation, repair or replacement at competitive prices with Cypress Rain Gutters.
Gutters play a very important role in every property, they help prevent problems with your foundation. Gutters have the purpose of collecting and draining rain water from the roof while keeping this water safely away from your house or business foundation, this is why regular maintenance on your gutter system is really important, so depending on how many trees you have around your home or business you will have to clean your commercial or residential gutter system.
Benefits of Gutters
For Emergency Gutters Repair Services
Call Now! (832) 258-7632
100% FREE Estimate
Request Form
Expert Residential & Commercial Gutter Contractor
Are you fed up of the accumulation of debris inside your gutter system? If you have many trees around your property and your gutters system easily accumulates leaves and other particles of debris, gutters screen or gutter guard is perfect to prevent debris getting inside the gutter system. Consider installing gutter guards over your home or business gutter system to avoid clogged gutters and clogged downspout system, gutter guards reduce the amount of debris that would normally get into the system. Our gutter experts can assist you to install gutter guards that will enhance the performance of your current gutter system, contact us today.
Seamless Aluminum Gutter Installation
Seamless aluminum gutter helps to protect your house or business by collecting rainwater from the roof away from your property foundation, gutters will help you keeping your house dry and in good shape. Our professionals fully recommend to install seamless gutters, we offer seamless gutter installation whether it is for commercial or residential properties due to its several advantages. Seamless aluminum gutters system works with all types of roofs and performs well with any type of roof material, don't hesitate and call us for any of your gutter needs.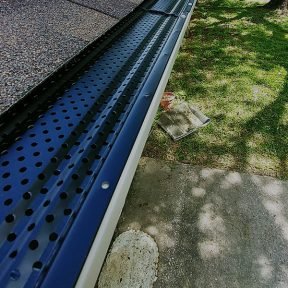 Gutter Projects To Impress
One rewarding relationship we will happily celebrate